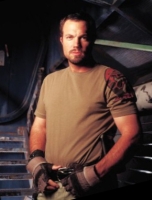 Yo. I'm Alex, and I have numerous likes and dislikes. Doesn't everybody?
Anyway, Here's what I like (seasons I have seen if I haven't seen it all):
Alias, Andromeda (1-3), Babylon 5, Battlestar Galactica [RDM], Buffy the Vampire Slayer (1-3), Not Angel, Doctor Who (9th/10th doc adventures), Eureka, Family Guy (1), Firefly, The 4400 (1), Heroes (1, 3), Merlin, Prison Break (1), Robot Chicken (A few episodes here and there. The star wars special.) Star Trek DS9 (1-5, some of 6/7), Stargate [SG1/A/U], Terminator SCC, .
You know, that's quite the list. and by 'Not Angel', I mean I haven't seen the show. Yet. I got it on DVD, but prefer to watch it when I get to S4 in a rewatch of BTVS.
Lets see... I write fanfic, and read a lot of fanfiction. A little is andromeda, but only a drop in the bucket compared to the amount of fanfiction for Stargate and Harry Potter I've read... and I'm really starting to sound like a nerd/geek/whatever in a bad way.
My idea for a Rommie/Harper fanfic won't help that... but here goes the outline:
Fanfic Idea: "Harper, it's a... ship?"
Edit
Fanfic idea - Big section, click show to reveal.
Okay, it starts off with a visit to some medical facility (not andromeda, which is the key to certain angsty, character-developing bits.)

Harper, and, in what I've written so far, Beka, are there to get him treated for some small ailment, but after a full checkup, and I do mean 'full', he finds out that he can't have kids. Ever. Certain parts not working at all, nevermind just 'underproducing' as the, affliction, seems to almost always be in real life. Bluntly, it don't matter than he can get aroused and, perform if... necessary... it's just that he can't get any woman pregnant. Ever. And it's in such a way that even Commonwealth Medicine can't fix.

So he's all depressed and stuff, slowly affecting the performance of his duties, and everyone except Beka doesn't know why, but aren't going to pry, except when half the repair work takes twice the time it normally takes harper to do it all in, after some big battle. you know, normally it takes him 2 or 3 days to fix it all and that's when he does take time to sleep, at Andromeda's insistence, only in this, it's a week and she's only half fixed, and he's not sleeping enough, sort of thing.

About a month after, Andromeda the Ship won't pry into the medical file, certain criteria hasn't yet been met that will put the regulations on the side of doing so. But Rommie, who's evolved differently (emotionally, as well as her point of view of the crew) will... Andromeda won't violate both regulations, and the trust Harper has in her, but Rommie will if it means saving him, if whatever it is is that serious.

So anyway, an chance comment from Trance... hey that rhym-Ow. no hitting me, readers... Ow... okay I'll get on with it. Bloody Monty Python.

So the chance comment from our favourite purple gal, plants an idea in Rommies' head. This is before she 'apparently' becomes aware of his reproductive problems, and Rommie presents to him the idea of making a new ship... with parts of the Andromeda that aren't all that necessary. And It's not like there won't be an opportunity at some point for him to replace said components later on.

(Basically, the gist of Trance' comment is that the Maru is like Beka' kid, only she says it in the typical way that ship captains/engineers refer to their ships that they're fond of, planet-sized intelligence or not. A somewhat innocent-sounding comment, if you will.)

So, Harper takes her idea, and it's like he's transformed, as he seems to see a certain, subtext, to her suggestion.

Parts are taken from all over, and the pair star to build this new ship, at first in the machine shops, then over a few months in their spare time, in a hanger, the ship takes form. And a strange form, sort of. Trance helps suggest a few things, and after... nine months (a number whose significance is not lost on Dylan, Beka nor Tyr, but seemingly on Trance...) A ship with a familiar seeming silhouette is sitting in the hanger deck... ready, but needing a crew to do anything. The pair feel it's unfinished, like it's missing something.

An AI, but Andromeda and Rommie both agree that, it doesn't seem like the right decision to, copy herself onto the ship. And a joking comment is taken as serious... Tyr of all people suggesting it (because of the irony, of Tyr doing so. Both in that the subtext is very nietzchean, in a way.) Rommie and Harper create a new 'AI'.

And The pair realise that the 'fastest' way to do so would be to link up to the empty computer core. The both of them... Harper would then create a new AI with part of Rommies' programming, and some new programming... Course, the core can't contain an AI with an initial development anywhere similar to the level of Andromeda's, but over time the core would be expanded by both his physical work on it, and certain parts on automatic, like nanobots or something.

After awhile, the new 'AI' gets it's own identity, before the pair disconnect from the very, very, deep connection they had not just to the core, but to each other.

A Faceless representation of the AI appears on a screen, and after getting some data from 'Mom' via an upload, decides on calling itself, 'Zelazny Ascendant.'

A sarcastic comment after being prompted leads 'Zel' to reply with, 'Andromeda Harper doesn't have the same ring to it' and Rommie adding 'It'll get confusing too, there's already 3 of me...'

After awhile, the pair then proceed to build a body for the ship, an Avatar, only much, much more deeply connected. Unlike Rommie/Andromeda, 'Zel'/Zelazny whould literally be just one 'instance' of the AI. No using hologram or Display and arguing with oneself as a literal multiple personality... because for one, his or her personality matrix is based on Rommies - not Andromedas. Rommie is an 'instance', a version of part of that matrix, not the full matrix in of itself.

And this avatar is way different from Rommie. Trance lends some help along with some knowledge from the Persieds, allowing the Avatar to be partially organic, with the cells grown from... you guessed it, Harpers' DNA. Again, Harper sees the subtext in all that, but Rommie refuses to. "I was helping you, Harper. Not... proposing a relationship." And that "The Organic part of Zelazny is there as part of a defense and repair mechanism. That Zel will therefore eat and drink to maintain those cells in that manner is only a bonus for Zel's social development".

'Zel' at first, is like, a child, I guess. very young AI, has to evolve on his or her own. (And just the genderless thing is a bit of a thing before s/he chooses a gender) And Zel isn't even a Commonwealth ship, for awhile, while s/he learns from 'Mum and dad' (which s/he does call Rommie and Harper, although Zel calls the ship, Grandmother, under the logic that 'Mum came from you, and I came from Mum... so...' Beka can't help the comment 'Well, Romie came from the mind of Andromeda, and the... physical effort... of Harper, so I'd say he's your grandad... but he's your dad... wait...' Andromeda just chides her for the comment, glad that Harper didn't hear.

This is by no means the end of the fic idea, it's just... like the start, I guess. The middle I've already thought of, not the end. Sorta.

For an idea on the design: Think of the Renewed Valor from 'Angel dark, Demon Bright' (season 1: Andromeda goes back in time thanks to a slipstream lesson for trance.) I.e. the general silhouette... but the central hull, or, 'the tube' :P is like a scaled down version of Andromeda's... then again, the whole ship can fit in the largest of Rommies' hangers, so the whole thing is pretty much scaled down, you could say. The proportions of the ship are also different... so the central hull is actually large enough to fit a full two decks (although no cross-wise corridors 'cept to the airlocks) with a forward cockpit in the upper deck (since the nose of the ship slopes more up than down... so a suitable place for a cockpit whose windows are unique bits of glass. From the outside, you can't even tell it's a window, as it seems to just be hull.

Lengthwise, the ship is, I guess, about 1.5 times the length of the Maru... just for scale ;).
I started transcribe the first chapter to a blog post for the Fanfiction Blog, group thing. Portal. I'll post it once I've finished writing the first scene, and save page each time I get to the end of a chapter until I mark it finished. (Just incase my computer crashes). AlexMcpherson 19:53, March 20, 2010 (UTC)
First 5 scenes are finalised (another 2 in chapter 1, and, not counted, in chapter 2 to be rewritten/moved over.) Click Linky for the first chapter.. ;) AlexMcpherson 04:58, March 23, 2010 (UTC)
Community content is available under
CC-BY-SA
unless otherwise noted.