Triumvirate Heavy Cruiser
Manufacturer:
Unknown
Role:
Heavy Cruiser, Triumvirate Flagship
Planet of Origin:
Tarazed
Length:
1250 meters
Beam:
Unknown
Draft:
Unknown
Mass:
Unknown
Sections:
Unknown
Crew Complement:
Unknown
Drive/Computer Systems
Power Plant:
Antiproton Fusion Reactors
Offensive/Defensive Systems
Chronological and General Info
Faction:
Systems Commonwealth, High Guard
The Triumvirate Heavy Cruiser is the name given to an otherwise unknown class of large High Guard starship used as command ships by the Triumvirate of the New Systems Commonwealth. Although specifications are not given, the ship appears to be similar in size to a Glorious Heritage Class heavy cruiser.
Although its capabilities are largely unknown, the Triumvirate Heavy Cruiser clearly presents some degree of threat to a Glorious Heritage class heavy cruiser, as evidenced by the crew of Andromeda's reaction to both vessels of the class when encountered. The ship is unwieldy enough that it cannot successfully navigate the Gordian Maze.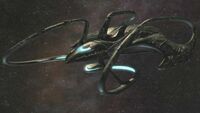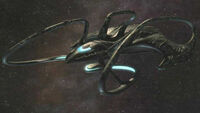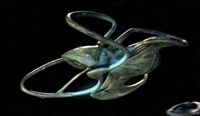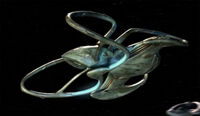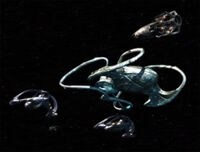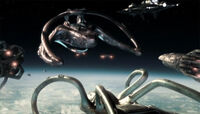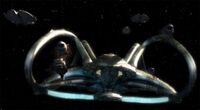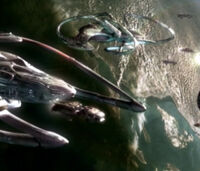 Community content is available under
CC-BY-SA
unless otherwise noted.