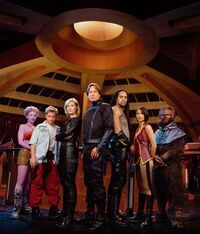 The First Season of Andromeda aired on the Global network in Canada, while it aired in the United States in syndication. The series and season premiere was October 2, 2000, and the season finale on May 14, 2001 with 22 episodes in total. The first season was guided by developer Robert Hewitt Wolfe, and was an arc-driven season.
Dylan Hunt awakes on the edge of a black hole called Hephaistos 300 years into the future. He discovers a group of mercenaries are attempting to hijack his ship. Once betrayed by their employer, he convinces the mercenaries to work with him so they do not get sucked back into the black hole that threatens them all. They pitch in, and once they have dealt with their employer, they agree to stay on board to help Dylan Hunt rebuild the Systems Commonwealth, but their motives are not always as altruistic as Dylan's. The crew must battle against 300 years of anarchy, as well as lethal enemies such as the Nietzscheans. They have further motivation to get this new Commonwealth established when they discover a dangerous enemy is on the move towards the known galaxies.
All 7 members of the regular cast of the series appeared in every episode of season 1. Most episodes were not about a specific character, as the overall story arc were about corporations, governments, and intergalactic events. However, there were several episodes that focused on specific characters and their development.
Guest Actor
Edit
DVD Release
Edit
The First Season of Andromeda has been released on DVD in a vareity of formats:
Community content is available under
CC-BY-SA
unless otherwise noted.