The Local Group is the term for all of the explored galaxies that consist of the Known Space of the Systems Commonwealth and its allied governments and people. The Local Galactic Group consists of several galaxies within relatively close distances of several hundred thousand light years: the Andromeda, Triangulum, and Milky Way galaxies as well as 2 dwarf galaxies collectively known as the Magellanic Cloud.
The Local Group has over 60 galaxies, most of them dwarf galaxies. With the largest being Andromeda, followed by the Milky Way, and then Triangulum. Over 40 of the galaxies (all dwarf galaxies) are also satellite galaxies with 30 of them being satellites of the Milky Way and 11 of them being satellites of Andromeda (Triangulum may have 1 satellite). The largest dwarf galaxy is the Large Magellanic Cloud which is also the 4th largest galaxy in the Local Group, and the Lesser Magellanic Cloud is the 6th largest.
The Local Group came to be dominated by the Vedran Empire which would evolve into the Systems Commonwealth. During their expansion, they encountered the Kalderan Alliance and the Than Hegemony. The former were conquered by the Vedran Empire and the later willingly joined the Systems Commonwealth. The only other power in the Local Group that rivaled the Systems Commonwealth were the Pyrians.
After the fall of the Systems Commonwealth, several interstellar powers emerged from its remnants during the Long Night. The most important were the Drago-Kazov Pride, the Than Hegemony, the Kalderan Commune, and the Sabra-Jaguar Pride. Centuries later, the Systems Commonwealth would be restored, though both the Than and Kalderan remained independent. The Pyrians were still an intergalactic power at this time, rivaling the Systems Commonwealth.
Apparently, a Nietzschean slipscout mapped slipstream from "the Local Group to the Virgo Cluster." ("Deep Midnight's Voice")
External links
Edit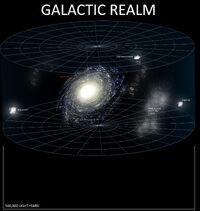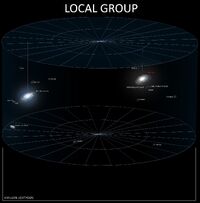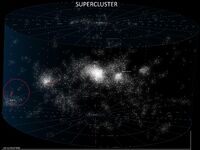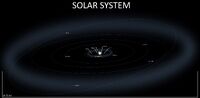 Community content is available under
CC-BY-SA
unless otherwise noted.